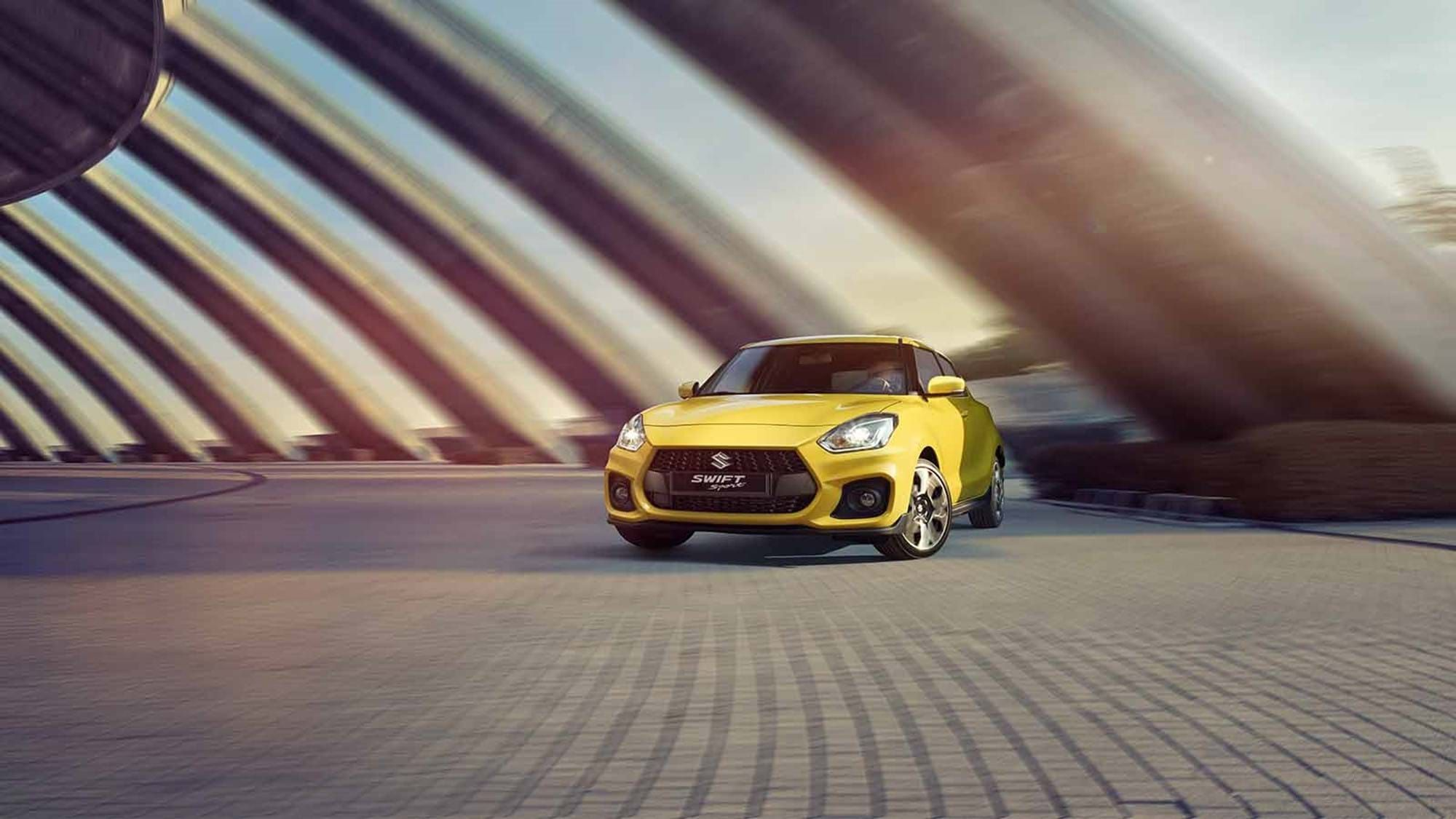 NEW SWIFT SPORT LAUNCHES WITH £16,499 OFFER FOR JUNE
NEW SWIFT SPORT LAUNCHES WITH £16,499 OFFER FOR JUNE
The all-new Swift Sport is here and LEVOI's Suzuki in Colchester have a demonstrator ready and waiting to give you the hot hatch drive of your life.
Quick off the mark buyers can save £1,500 and buy this exciting car during June for only £16,499 on the road with metallic paint (R.R.P £17,999). A £750 finance deposit contribution is also available*. But these specials offers are only available during the launch month, so don't delay and call our friendly team now on 01206 862616 to book your test drive.
Third generation enhancements
The new Swift Sport features a lower, wider stance, more aggressive styling and a torque-to-weight ratio that propels the lighter, faster and more stimulating Swift Sport into genuine hot hatch territory.
Hot hatch performance
Kerb weight is down 80kg to only 970kg, maximum torque is up 70N⋅m to 230N⋅m, and the Swift Sport's acclaimed handling is more responsive than ever. The result is genuine hot hatch performance that takes the Swift Sport to the next level.
Stimulating driver experience
The new interior stimulates the driver's senses. Accent panels, colour-contrasted gauges and precision dials provide visual impact, while semi-bucket seats and high-quality textures keep the driver firmly in control of the fun.
Strong visual presence
The Swift Sport's athletic stance and performance credentials are enhanced by an exclusive front grille and bumper, and aerodynamic front-lip spoiler, side skirts, rear diffuser and roof-end spoiler. 17-inch polished alloy wheels and dual exhausts complete the picture.
With a 1.4 BOOSTERJET engine producing 230N⋅m of torque, and a total kerb weight that is 80kg less than its predecessor, the lighter and quicker Swift Sport is sharper, quicker, more aggressive and emotive.
The team at LEVOI's Suzuki believe the third generation Swift Sport has moved the game on to the next level as a genuine hot hatch. They are confident that when you drive it you're going to go WOW!
*Both PCP and HP schemes are available and the details are as follows: A £750 Finance Deposit Allowance (FDA) is offered for the launch month and with no further customer deposit required. If a PCP (Personal Contract Purchase) is chosen, payments are £258 per month based on a 49 month agreement with a final optional payment of £5,943 to keep the car.
Alternatively, should a customer prefer to place a deposit of £2,530 plus the £750 Finance allowance from Suzuki then the PCP monthly payments will reduce to £199 per month, again based on a 49 month agreement and with a final optional payment of £5,943. Both agreements have a representative APR of 5.9 per cent and are based on 8,000 miles per annum.
For customers who would prefer a Hire Purchase arrangement, the £750 allowance also applies and with no further deposit required. Monthly payments are £368 and the agreement duration is 48 months. Payments can reduce to £299 per month if a customer chooses to place a deposit of £2,954, again with a representative APR of 5.9 per cent.
Latest News
10-12-2020
Suzuki GB is very pleased to announce some great news from the recent Motor…
Read more >
10-12-2020
The new Swift Sport will be officially revealed at the 67th IAA Frankfurt…
Read more >
10-12-2020
The all-new Swift Sport had its global premiere at the Frankfurt Motor…
Read more >