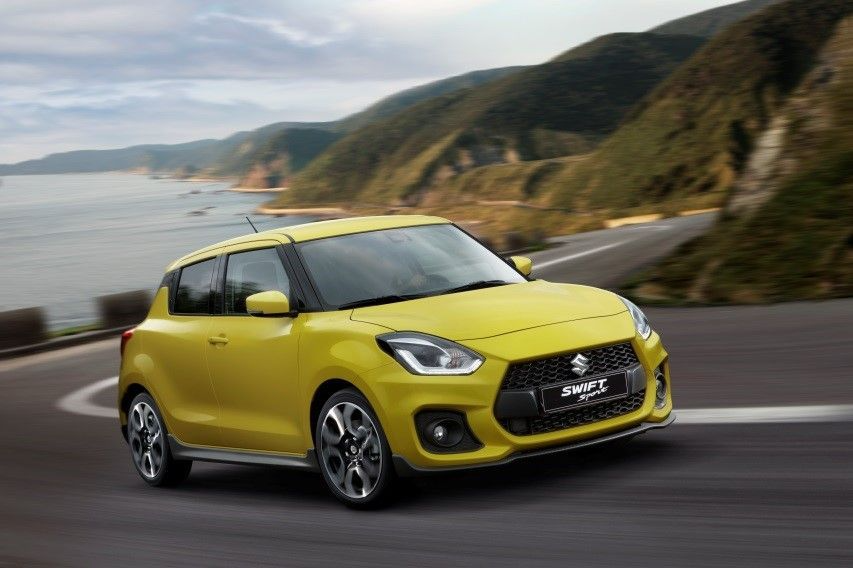 NEW SWIFT SPORT LAUNCHED
The all-new Swift Sport had its global premiere at the Frankfurt Motor Show today. The third-generation Swift Sport features a lower, wider stance, more aggressive styling, and a torque-to-weight ratio that propels the Swift Sport into genuine hot hatch territory.
"We know that our customers value a dynamic driving experience above everything else," says Swift Sport chief engineer Masao Kobori, "so we've made the new Swift Sport lighter, faster and more stimulating in every way."
Hot hatch performance
Kerb weight is down 80kg to only 970kg, maximum torque is up 70N⋅m to 230N⋅m, and the Swift Sport's acclaimed handling is more responsive than ever. The result is genuine hot hatch performance that takes the Swift Sport to the next level.
Stimulating driver experience
The new interior stimulates the driver's senses. Accent panels, colour-contrasted gauges and precision dials provide visual impact, while semi-bucket seats and high-quality textures keep the driver firmly in control of the fun.
Strong visual presence
The Swift Sport's athletic stance and performance credentials are enhanced by an exclusive front grille and bumper, and aerodynamic front-lip spoiler, side skirts, rear diffuser and roof-end spoiler. 17-inch polished alloy wheels and dual exhausts complete the picture.
With a 1.4 BOOSTERJET engine producing 230N⋅m of torque, and a total kerb weight that is 80kg less than its predecessor, the lighter and quicker Swift Sport has evolved into a genuine hot hatch that makes exhilarating sports driving a reality.
Masao Kobori, Chief Engineer says: "We know that our customers value a dynamic driving experience above everything else, so for the third-generation Swift Sport our development concept was "Ultimate driving excitement".
"We had a brilliant foundation to work from, because the new Swift HEARTECT platform is incredibly light and rigid. Our team had hundreds of new design and engineering ideas, but these ideas only made it off the drawing board if they added performance and emotion.
We've made the car lower and wider, and packed it with lightweight technology."
"It's lighter, sharper, quicker. It's more aggressive and emotive, but we've also refined the elements that make it practical to use every day—the clutch feel, the manual transmission shift throw, the seats and steering wheel. Everything that puts the driver at the heart of the experience."
"There's a history to the Swift Sport. Since 2005, it's been the special model that combines the practical convenience of a hatchback with true sports performance. With the third generation we've moved the game on to the next level as a genuine hot hatch. And I'm confident that when you drive it you're going to go WOW!"
Latest News
10-12-2020
Suzuki GB is very pleased to announce some great news from the recent Motor…
Read more >
10-12-2020
The new Swift Sport will be officially revealed at the 67th IAA Frankfurt…
Read more >
10-12-2020
Suzuki's Ignis has been awarded 2017 Car of the Year by the UK's…
Read more >